Congratulations to your graduate! We understand this is an exciting time of year to celebrate this magnificent achievement. Whether you're looking for lodging just for yourself or if you're bringing family and friends, we want to help take the stress out of finding the perfect place. Check out our below options ranging in size, type and location. Looking for something else that is not listed below? Do not hesitate to reach out as we are constantly updating our availability and generally have options that are not yet listed on the website. All graduation accommodations require a three night minimum.
Langley Cottage
Sleeps 1-2
This rustic, yet renovated, one bedroom log cabin has a large King bedroom, kitchenette, living space, and one bathroom, making this space perfect for any couple in need of a country vacation. It is only 12 miles from Charlottesville and in close proximity to endless outdoor excursions in central Virginia. It has a lovely front porch to enjoy summer nights and a large fireplace to warm up next to in winter.
Reserve Now
Martin Suite
Sleeps 1-2
The Martin guest suite offers beautiful country views and yet is just five miles from UVa and Downtown Charlottesville. Newly renovated in May 2016, you'll find a king bed, shower bathroom, and private washer & dryer. The living area includes a gas fireplace and the kitchenette includes a sink, full size refrigerator, toaster oven, microwave, and coffeemaker, as well as a two-burner cooktop, crock pot, and rice maker. Natural light comes in through the floor to ceiling windows and sliding glass doors. Your private entrance is from the large brick patio overlooking the countryside.
A short drive to UVA and the Birdwood Golf Course, as well as within 10 miles of King Family Vineyards, the Downtown Mall, and parks.
Reserve Now
Ramsay Estate Carriage House
Sleeps 1-2
An ultra relaxing and comfortable stay, the Ramsay Estate is one of the most breathtaking properties in Charlottesville. It includes an expansive room with a Queen bed, kitchenette, dining table, and living area. This place is perfect for any couple wanting to visit Charlottesville's vineyards and breweries, take outdoor excursions, and visit historical sites. It includes A/C, WiFi, cable, and a TV.
Just a short drive to King Family Vineyards, and within 10 miles of Veritas Winery, Pippin Hill Vineyards, and the Shenandoah National Park.
Reserve Now
Brookview
Sleeps 2-3
This one bedroom suite has breathtaking views of the mountains and Crozet landscape. Enjoy a Queen bedroom and full bath, spacious living/dining area, patio, and kitchenette (without a sink). This suite is perfect for a couple wanting to explore the Virginia outdoors, the charming town of Crozet, or have a closely distant retreat from Charlottesville. Amenities include A/C, TV, Satellite, Wireless Internet, Outdoor Patio, Walking trails on property.
Within walking distance of the Old Trail Golf Course and just a short drive from King Family Vineyards.
Reserve Now
Bradford Suite
Sleeps 2-4
A convenient and spacious suite located in this B&B style accommodation close to the University of Virginia makes this accommodation perfect for up to four visitors of Charlottesville and the University grounds. This private suite is on the lower level where you descend from the main level hallway to a large living room. There is an electric fire place, a TV, a screened in porch, and a bedroom with a Double bed and an adjoining bathroom. If extra sleeping space is needed, there is a sunny twins bedroom with a private hall bathroom on the main level. This is a B&B style accommodation, where the owner, your hostess, stays on the main floor and serves continental breakfast each morning. Amenities include A/C, Cable TV, Wireless Internet, Screened in porch, Electric fireplace, Walking trails on property.
Just a short drive from the Downtown Mall, UVA, bike trails, parks, golf courses, and the Rivanna Reservoir!
Reserve Now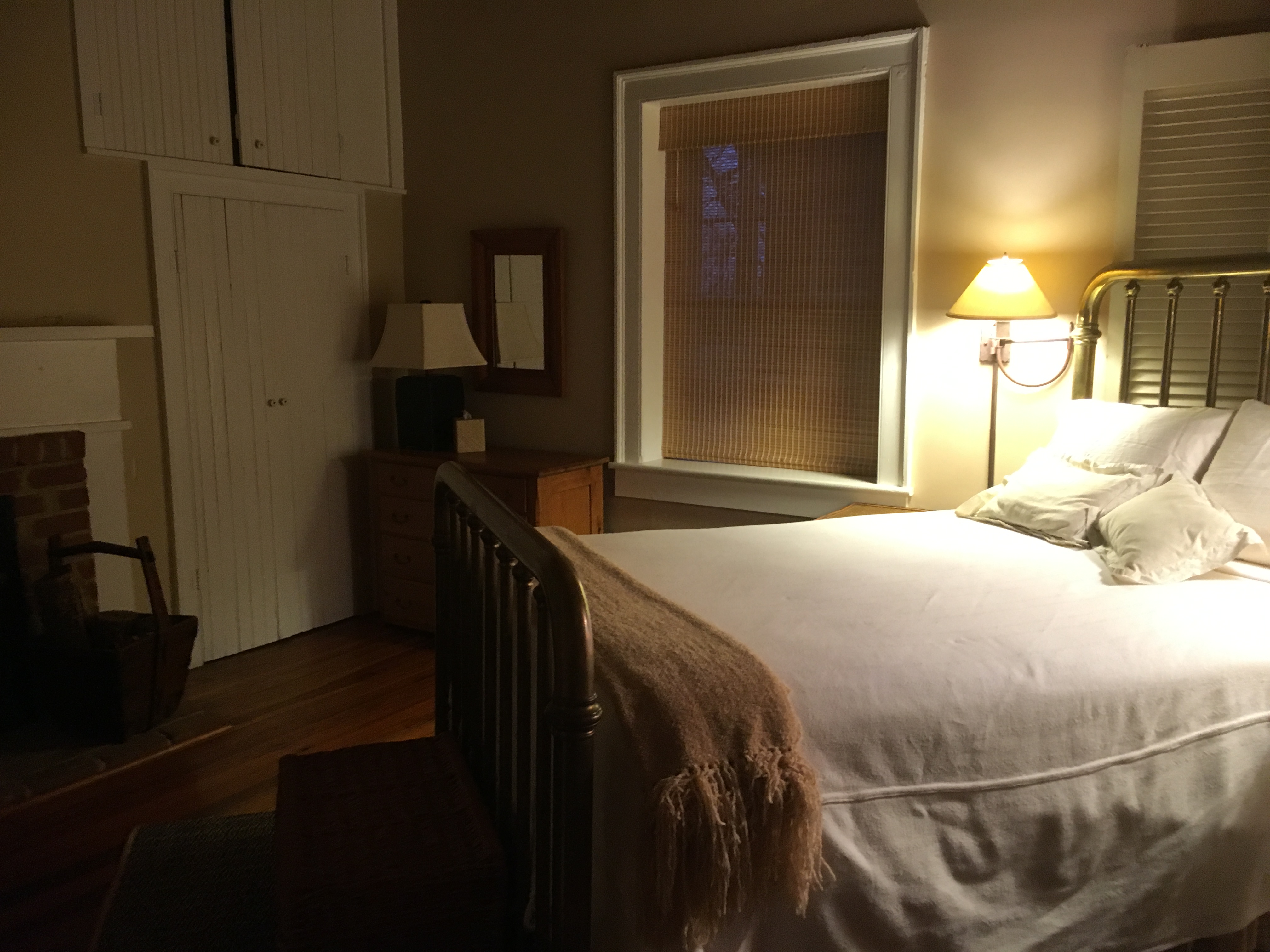 Donegal Farm Cottage
Sleeps 2-4
Enjoy a true rustic experience in this two bedroom (Double, two Twins) cabin. It is ideal for a small family or small group of friends who would like to reconnect with nature and escape from busier times. It is equipped with a full kitchen, three fireplaces, and an outdoor grill. It includes A/C for the summer and heating for the winter. The cabin is surrounded by beautiful outdoor areas and is further removed from Charlottesville and urban areas. This accommodation is just a short drive away from a hike in the beautiful Shenandoah or a tubing trip down the James river.
We are dog-friendly with prior approval. Additional fees apply.
Reserve Now
Seven Gables Log Cabin
Sleeps 2-4
This historic 1790s hand-hewn log cabin is a two bedroom (Double, two Twins) stay, perfect for a couple or family of four. At Seven Gables you would truly have a rustic experience without Wifi and TV, encouraging togetherness and the outdoors. There is a private porch, gas grill, and woodburning fireplace. Surrounding activities include fishing, hiking, tubing down the river, and other fun outdoor excursions. It is also only 12 miles from downtown Charlottesville for anyone interesting in touring the city.
Reserve Now
Canterbury Hills
Sleeps 6
4 bedrooms and 3 full bathrooms.  Just past Rt 250 where it crosses Barracks Road, the neighborhood to the left is Canterbury Hills (2 mile drive to UVa).  This Cape Cod designed home has a Double bedroom and full hall bathroom on the first floor.  On the second floor, there is a Queen bedroom with en suite bathroom.  Two other bedrooms share the full hall bathroom – one has an antique three quarter bed suitable for one person.  The other bedroom has an antique Double bed perfect for one person, and a Single twin bed.  On the first level there is a living room, a dining room that can seat up to 9/10, a den with flat screen TV and Cable, and the full kitchen.   Owner and her 2 year old Corgi will leave the house during your stay.
Contact info@vaguesthouses.com for more pictures and to reserve.
Contact info@vaguesthouses.com to Reserve
Kismet Cottage - Graduation Parties Welcome!
Sleeps 6
Get-away to quiet luxury at the Kismet Cottage. Enjoy the whole home featuring two bedrooms, one king as well as a queen, with three bathrooms. Additional guests can be accommodated on an air mattress with private space in the closed off den. Relax on the outdoor patio featuring a beautiful outdoor pool, wood charcoal grill on the expansive stone patio. Please note, the owner will stay on site during your visit should any issues arise during your stay.
Roam the expansive Spring Hill Farm in Albemarle, a magical oasis of harmony, peace, tranquility- yet minutes from town and all necessary amenities. An oasis of 32 acres that offers the best of everything-stunning mountain views, majestic mature speciman grandiflora magnolias, towering, elegant Norway spruces, variety of oaks and maples all season blooming color gardens, and flowing passage ways allowing easy access and navigation.
Just off of US-29, about four miles north of CHO airport, you have the convenience of restaurants, wineries, and the best that Charlottesville and Albemarle County has to offer.
Inquire about hosting events/parties at the Garden Barn at Spring Hill Farm!
Reserve Now
Locust Hill
Sleeps 6
A most historic property where Meriwether Lewis was born!  Just west of Charlottesville and UVa by 6 miles, the home has much of its original charm.  The QUEEN bedroom and private bath are on the first floor and next to the sitting room which leads to the country porch with lovely garden views.  Upstairs are a second bedroom - a Double with a private hall bathroom and a Twins bedroom with private bathroom.  Truly a stay to remember.  Owner stays in cottage while guests are in house.
Whole house rental available only for graduation. Additional pictures available by emailing info@vaguesthouses.com.
Reserve Now
Future UVA Graduations
2018 | May 18-20      2019 | May 17-19      2020 | May 15-17
​Interested in lodging for upcoming UVA graduations? We handle graduation weekend differently than other weekends. Since we offer private homes, most owners will not offer the home until the present graduation has been completed and some wait until fall to let us know that their home will be available.  While we do not begin making future graduation reservations until the May of the year before, we do maintain a waiting list to notify you as soon as a home that fits your needs becomes available.  Adding yourself to the waiting list is not an obligation to reserve a home if there is not a good fit for your family's needs.
Contact us to be added to the waiting list.
Graduation Weekend Policies
Minimum Stay
Please note, all graduation reservations require a three-night minimum stay.
Cancellation Policy
Once you have selected the property and it is reserved for you, the initial deposit of 50% is due by credit card at the time of making the reservation.  This deposit is non-refundable. The final payment is payable by check to Guesthouses and is due January 15, 2017. All reservations made after January 15th require the payment in full at the time of booking. All payments are non-refundable.  A refund will only be considered if we are able to rebook the property and if the cancellation is made prior to January 15, 2017. No adjustments can be made to rates due to a reduction in the number of guests, the number of bedrooms booked, or to the number of nights needed. 
Graduation Parties & Small Gatherings
If you reserve a house and are considering inviting friends/family for a small party, you must contact your host and ask his/her permission to do so and to set a guest limit.  Some hosts will be glad to work with you.  It is required that you get permission beforehand if you are entertaining any more than the number of guests that you have booked for your accommodation (and the graduate).  Hosts may require a damage deposit and a fee for use of the property for the event.   Without the owner's permission, such an event is considered to be trespassing on the owner's property.  
Additional Policies
All homes are non-smoking, including on the property. No pets are able to be accommodated during graduation weekend. All other regular Guesthouses policies are included for UVA Graduation weekend as well.