Benefits of Booking Direct
There are many advantages of booking your vacation rental directly us, either through our website or over the phone.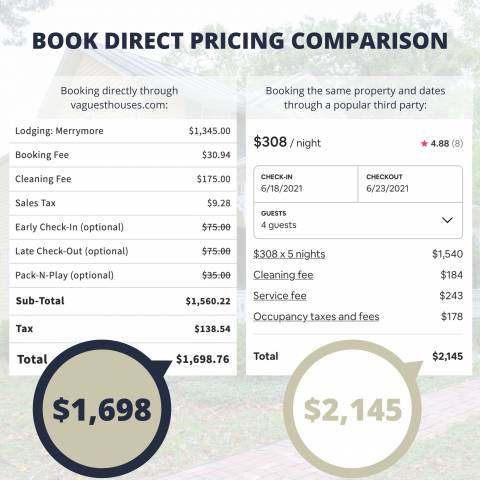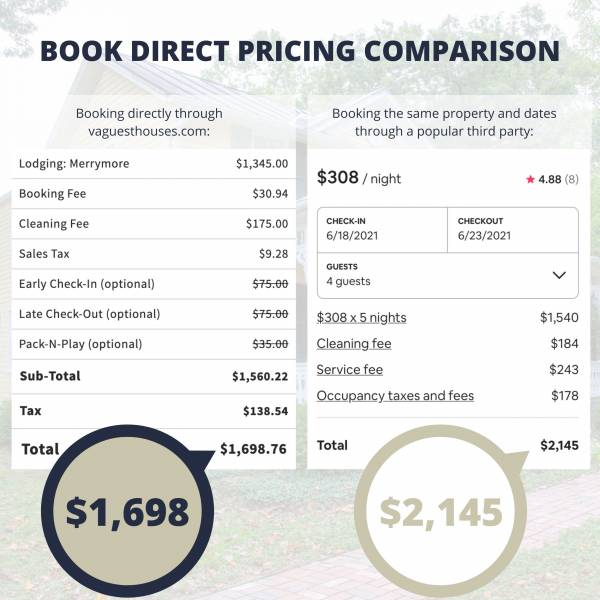 Save Money on Your Booking
You get the best rate on your reservation — guaranteed — when you book directly through Guesthouses. Third-party sites like Airbnb, Vrbo, and Booking.com charge higher rates and fees, which raise the overall price for the guest. 
In this price comparison, Merrymore (one of our properties) is booked for the exact same dates on vaguesthouses.com and on a popular third-party. By booking direct, the guest would save over 26% on their reservation.
Get the Best Customer Service
When you book directly, you'll be in touch with our local team. Whether you have specific questions about a property, need help choosing the perfect vacation rental, or even want recommended things to do, we have you covered. We spend time in our properties regularly — and live right in Charlottesville — so will help you plan a great vacation.
Professionally Managed Homes
All of our Charlottesville-area vacation rentals are managed by our hospitality team and are maintained at a very high standard. This means you'll enjoy hotel-like amenities and cleanliness. The homes have professional housekeeping between every stay and include everything you need to be comfortable.