Row Wrapper 2
Jeff Studio 303
Capacity
1 Bedroom
1 Bath
Sleeps 2
About
Jeff Studio 303: Each room is individually furnished, with a distinct personality. Think effortless cool, creamy suede, and desert colors with pops of quirky humor. To ensure privacy and true getaway vibes, The Jeff was designed to be entirely self-service (no front desk or need for check-in). Upon booking, you will receive a unique code that gives you access to your room.



The Jeff Hotel Studios feature a luxurious, custom-made king bed - perfect to settle down in after a hard day's rockin' with a flat screen TV. A Marshall amp speaker is provided to kick back and enjoy your favorite tunes. Each room is equipped with pour-over coffee and tea. Our spacious en-suite bathrooms boast high-ceilings and walk-in showers. 



Purchase of each room comes with a 2-day parking voucher for the nearest parking garage – about a 3-minute walk from the entrance. Being on a pedestrian mall the hotel has no on-site parking, but we think that having Cville's most popular bars, restaurants and music venues mere steps away is a great trade-off! 



Other amenities:

•High speed internet

•Clothes steamer

•Hair dryer

•Heating and cooling zones

•24-hour guest support



*Note – The Jeff Hotel is located in an historic building above the nationally renowned Jefferson Theater and has no elevator. Each room is only accessible via stairs, in some cases multiple flights. 

Due to the active nature of the theater below, there may be times where there may be crowds outside of the main entrance waiting for an event or during an event.



Pet Friendly Room with $75 pet fee! 1 dog max. Please mention to us that you plan to bring a pet. We will charge a $150 fee if we are not notified of pets staying in the space. Please do NOT leave pets unattended in the space, unless crated. 
Features
Property Type
The Jeff Hotel
Jeff Studios
Photos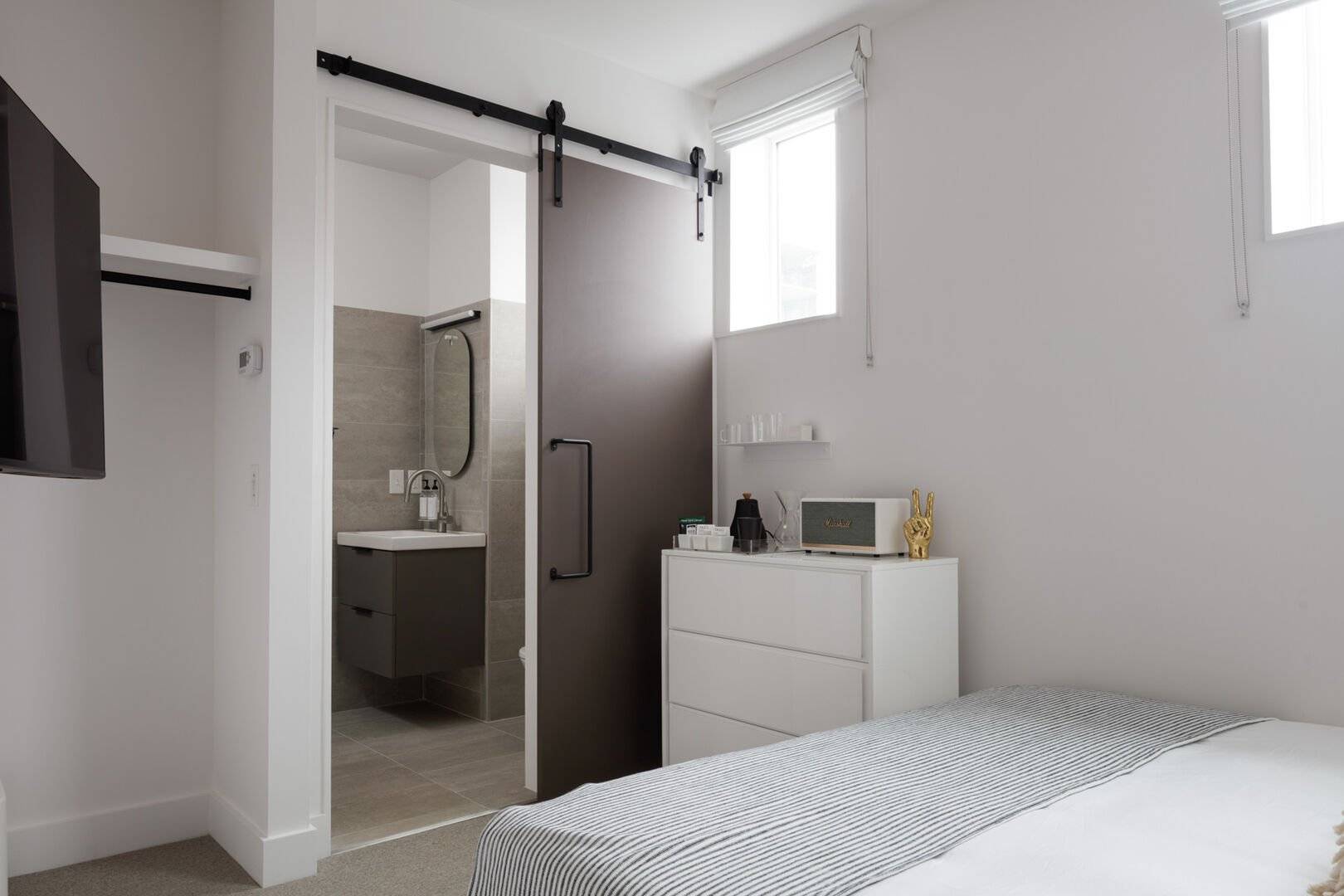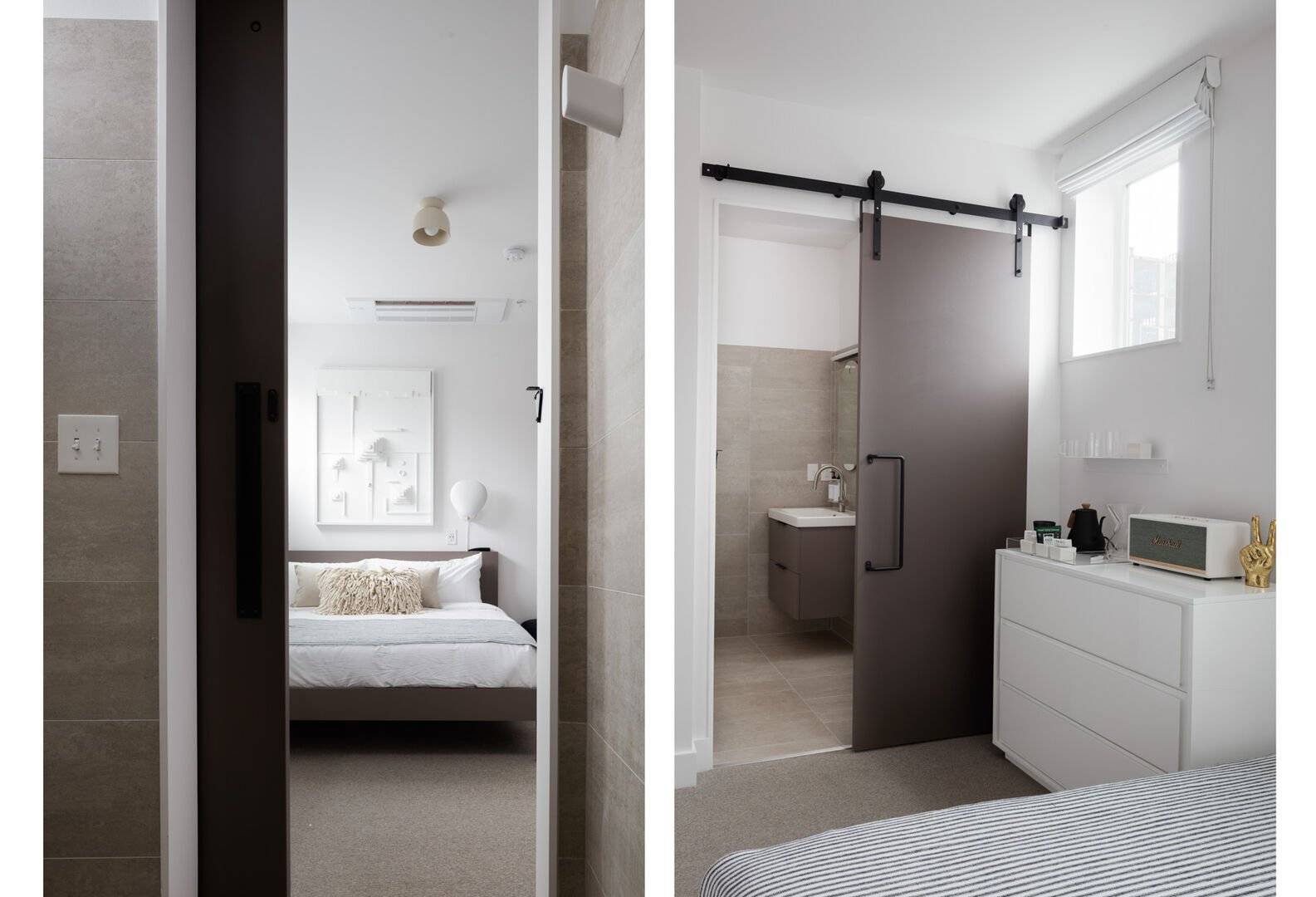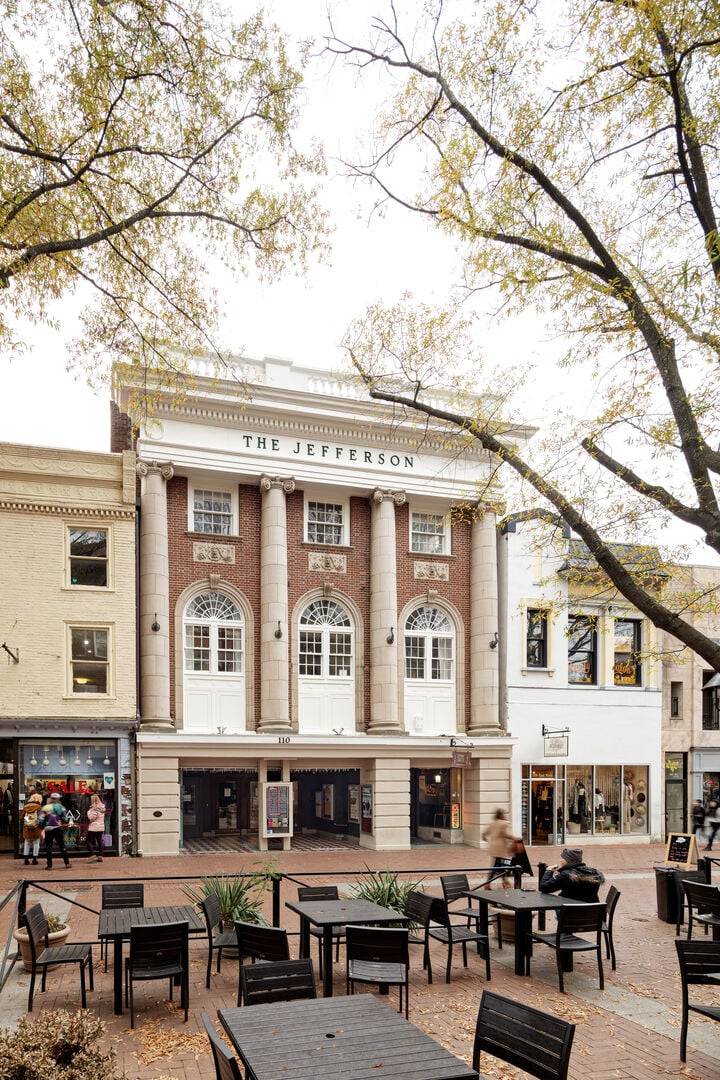 Availability
Key

| | | | | | | | |
| --- | --- | --- | --- | --- | --- | --- | --- |
| # | Night Available | # | Night Unavailable | # | Arrive Only | # | Depart Only |
May 2021
Su
Mo
Tu
We
Th
Fr
Sa

1




2




3




4




5




$135

/nt

6




$135

/nt

7




8




9




$135

/nt

10




$135

/nt

11




12




$135

/nt

13




$135

/nt

14




15




16




$199

/nt

17




$135

/nt

18




$135

/nt

19




$135

/nt

20




$175

/nt

21




22




23




24




$135

/nt

25




$135

/nt

26




$135

/nt

27




$169

/nt

28




29




30




31




$175

/nt
June 2021
Su
Mo
Tu
We
Th
Fr
Sa

1




$135

/nt

2




$135

/nt

3




$135

/nt

4




5




6




7




$135

/nt

8




$135

/nt

9




$135

/nt

10




$135

/nt

11




$175

/nt

12




13




14




15




16




$135

/nt

17




$135

/nt

18




$175

/nt

19




20




$135

/nt

21




$135

/nt

22




$135

/nt

23




$135

/nt

24




$135

/nt

25




$175

/nt

26




$175

/nt

27




$135

/nt

28




$135

/nt

29




$135

/nt

30




$135

/nt
July 2021
Su
Mo
Tu
We
Th
Fr
Sa

1




$135

/nt

2




$189

/nt

3




$189

/nt

4




$189

/nt

5




$135

/nt

6




$135

/nt

7




$135

/nt

8




$135

/nt

9




$175

/nt

10




$175

/nt

11




$135

/nt

12




$135

/nt

13




$135

/nt

14




$135

/nt

15




$135

/nt

16




$175

/nt

17




$175

/nt

18




$135

/nt

19




$135

/nt

20




$135

/nt

21




$135

/nt

22




$135

/nt

23




$175

/nt

24




$175

/nt

25




$135

/nt

26




$135

/nt

27




$135

/nt

28




$135

/nt

29




$135

/nt

30




$175

/nt

31




$175

/nt
August 2021
Su
Mo
Tu
We
Th
Fr
Sa

1




$135

/nt

2




$135

/nt

3




$135

/nt

4




$135

/nt

5




$135

/nt

6




$175

/nt

7




$175

/nt

8




$135

/nt

9




$135

/nt

10




$135

/nt

11




$135

/nt

12




$135

/nt

13




$175

/nt

14




$175

/nt

15




$135

/nt

16




$135

/nt

17




$135

/nt

18




$135

/nt

19




$135

/nt

20




$175

/nt

21




$175

/nt

22




$135

/nt

23




$135

/nt

24




$135

/nt

25




$135

/nt

26




$135

/nt

27




28




29




$135

/nt

30




$135

/nt

31




$135

/nt
September 2021
Su
Mo
Tu
We
Th
Fr
Sa

1




$149

/nt

2




$149

/nt

3




4




5




6




$149

/nt

7




$149

/nt

8




$149

/nt

9




$149

/nt

10




$175

/nt

11




$175

/nt

12




$149

/nt

13




$149

/nt

14




$149

/nt

15




$149

/nt

16




$149

/nt

17




$175

/nt

18




$175

/nt

19




$149

/nt

20




$149

/nt

21




$149

/nt

22




$149

/nt

23




24




25




26




$149

/nt

27




$149

/nt

28




$149

/nt

29




$149

/nt

30




$149

/nt
October 2021
Su
Mo
Tu
We
Th
Fr
Sa

1




2




3




4




$149

/nt

5




$149

/nt

6




$149

/nt

7




$149

/nt

8




$175

/nt

9




$175

/nt

10




$149

/nt

11




$149

/nt

12




$149

/nt

13




$149

/nt

14




$149

/nt

15




$175

/nt

16




$175

/nt

17




$195

/nt

18




$149

/nt

19




$149

/nt

20




$149

/nt

21




$149

/nt

22




$175

/nt

23




24




25




$149

/nt

26




$149

/nt

27




$149

/nt

28




$149

/nt

29




$175

/nt

30




$175

/nt

31




$149

/nt
November 2021
Su
Mo
Tu
We
Th
Fr
Sa

1




$149

/nt

2




$149

/nt

3




$149

/nt

4




$149

/nt

5




$175

/nt

6




$175

/nt

7




$149

/nt

8




$149

/nt

9




$149

/nt

10




$149

/nt

11




$149

/nt

12




$175

/nt

13




$175

/nt

14




$149

/nt

15




$149

/nt

16




$149

/nt

17




$149

/nt

18




$149

/nt

19




$175

/nt

20




$175

/nt

21




$149

/nt

22




$149

/nt

23




$175

/nt

24




$175

/nt

25




$175

/nt

26




$175

/nt

27




$175

/nt

28




$149

/nt

29




$149

/nt

30




$149

/nt
December 2021
Su
Mo
Tu
We
Th
Fr
Sa

1




$149

/nt

2




$149

/nt

3




$175

/nt

4




$175

/nt

5




$149

/nt

6




$149

/nt

7




$149

/nt

8




$149

/nt

9




$149

/nt

10




$175

/nt

11




$175

/nt

12




$149

/nt

13




$149

/nt

14




$149

/nt

15




$149

/nt

16




$149

/nt

17




$175

/nt

18




$175

/nt

19




$149

/nt

20




$149

/nt

21




$149

/nt

22




$149

/nt

23




$220

/nt

24




$220

/nt

25




$220

/nt

26




$220

/nt

27




$149

/nt

28




$149

/nt

29




$149

/nt

30




$149

/nt

31




$175

/nt
January 2022
Su
Mo
Tu
We
Th
Fr
Sa

1




$175

/nt

2




$149

/nt

3




$149

/nt

4




$149

/nt

5




$149

/nt

6




$149

/nt

7




$175

/nt

8




$175

/nt

9




$149

/nt

10




$149

/nt

11




$149

/nt

12




$149

/nt

13




$149

/nt

14




$175

/nt

15




$175

/nt

16




$149

/nt

17




$149

/nt

18




$149

/nt

19




$149

/nt

20




$149

/nt

21




$175

/nt

22




$175

/nt

23




$149

/nt

24




$149

/nt

25




$149

/nt

26




$149

/nt

27




$149

/nt

28




$175

/nt

29




$175

/nt

30




$149

/nt

31




$149

/nt
February 2022
Su
Mo
Tu
We
Th
Fr
Sa

1




$149

/nt

2




$149

/nt

3




$149

/nt

4




$175

/nt

5




$175

/nt

6




$149

/nt

7




$149

/nt

8




$149

/nt

9




$149

/nt

10




$149

/nt

11




$175

/nt

12




$175

/nt

13




$149

/nt

14




$149

/nt

15




$149

/nt

16




$149

/nt

17




$149

/nt

18




$175

/nt

19




$175

/nt

20




$149

/nt

21




$149

/nt

22




$149

/nt

23




$149

/nt

24




$149

/nt

25




$175

/nt

26




$175

/nt

27




$149

/nt

28




$149

/nt
March 2022
Su
Mo
Tu
We
Th
Fr
Sa

1




$135

/nt

2




$135

/nt

3




$135

/nt

4




$165

/nt

5




$165

/nt

6




$135

/nt

7




$135

/nt

8




$135

/nt

9




$135

/nt

10




$135

/nt

11




$165

/nt

12




$165

/nt

13




$135

/nt

14




$135

/nt

15




$135

/nt

16




$135

/nt

17




$135

/nt

18




$165

/nt

19




$165

/nt

20




$135

/nt

21




$135

/nt

22




$135

/nt

23




$135

/nt

24




$135

/nt

25




$165

/nt

26




$165

/nt

27




$135

/nt

28




$135

/nt

29




$135

/nt

30




$135

/nt

31




$135

/nt
April 2022
Su
Mo
Tu
We
Th
Fr
Sa

1




$165

/nt

2




$165

/nt

3




$135

/nt

4




$135

/nt

5




$135

/nt

6




$135

/nt

7




$135

/nt

8




$165

/nt

9




$165

/nt

10




$135

/nt

11




$135

/nt

12




$135

/nt

13




$135

/nt

14




$135

/nt

15




$165

/nt

16




$165

/nt

17




$135

/nt

18




$135

/nt

19




$135

/nt

20




$135

/nt

21




$135

/nt

22




$165

/nt

23




$165

/nt

24




$135

/nt

25




$135

/nt

26




$135

/nt

27




$135

/nt

28




$135

/nt

29




$165

/nt

30




$165

/nt