What do you do on a beautiful fall weekend in Charlottesville?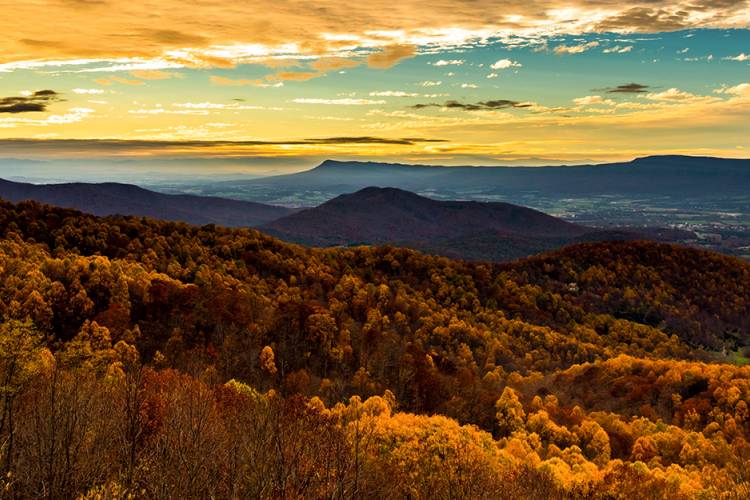 Leaf-Peeping Season is here and there's still time to catch all the orange, yellow, and red!
Want to see the crisp fall leaves changing colors? Want to have a reunion with your UVA friends? Charlottesville, Virginia is at its peak in the fall and a perfect time to schedule your vacation in the Blue Ridge Mountains! Our local mountains put on a stunning display of colors each year and Charlottesville is the perfect home base to witness it all. One of our most frequently asked questions at Guesthouses--"What do I do in Charlottesville for the perfect fall weekend?" We have a blog post for the "Perfect Foodie Weekend in Charlottesville" but we here at Guesthouses love our fall season and just had to post about some fun activities in and around Charlottesville.
Experience the Mountains
Take a drive on the Blue Ridge Parkway to view valleys of large Maples and Oaks from the overlooks or plan a day of hiking at Blackrock Summit, Turk Mountain, or Doyles River Falls. 
Geologically associated to the Blue Ridge are the Southwest Mountains just east of Charlottesville. You'll find Castle Hill Cider, Keswick Vineyards, Southwest Mountains Vineyards (NEW!), and more with outdoor areas to enjoy. Take a quick drive out to The Market at Grelen and James Madison's Montpelier for walking trails, pumpkins, and mums. 
Carter's Mountain Orchard
Upon arriving in Charlottesville, we recommend heading straight up to Carter's Mountain Orchard for delicious Bold Rock Cider and apple picking. The apple donuts are not to be missed and the orchard's sunset series on Thursdays provides you with the BEST sunset in Charlottesville. As the golden hour falls on the crisp fall leaves, you will know that this weekend is going to be a great decision.
Have Fun at the Corn Maze
Wrap up an afternoon of fun at Blue Ridge Mountain Maze, now located at Blue Toad Cider by the base of Wintergreen. Featuring a 5 acre corn maze, apple cider donuts, kettle corn, a pumpkin patch, and of course Blue Toad Cider, guests will find excitement for all ages.
Lampo Dinner
After a perfect sunset, head down the mountain to Lampo in the heart of Belmont, a posh urban feeling neighborhood just off the downtown Mall. We often refer to it as the "Brooklyn" of Charlottesville. The wood-fired Neapolitan pizzas and delicious salads are hard to beat. You may have to wait, but who doesn't want a Negroni while waiting?!
UVA Lawn for Breakfast
If you are not going to go to the Saturday Morning Market (a true treat discussed in Foodie blog post) on Saturday, we think without a doubt that a Bodos breakfast complete with Grit Coffee by the beautiful Geiko tree near the Rotunda  is a real UVA/Charlottesville experience. Take a walk through downtown Charlottesville and UVA Grounds to find stunning, yellow Ginkgos (see if you can find the Pratt Ginkgo) and other abundant fall colors. 
A Hike for the lunch!
Visit Charlottesville calls it one of the top 10 things to do for a fall weekend in Charlottesville and we could not agree anymore. A 15 minute drive outside of the city through the rolling hills of the Blue Ridge, you will find yourself in vacation paradise. By a rushing stream, take multiple hike options through the fall foliage. Bring your fly fishing gear if you love trout fishing!
Winery for Happy Hour
What better way to bring in the evening with a glass of wine? After your hike, stop by Stinson Vineyard -- a lovely boutique vineyard near Sugar Hollow that is on your way home complete with a perfect view of the mountains.  Food & Wine magazine just named it one of the "best and underrated" vineyards of 2018.
Dinner on the Downtown Mall
We cannot express enough the magic of the Downtown Mall and how beautiful it is in the fall! Get the feel of the big city in the small town of Charlottesville. All the unique restaurants and bars make it so fun to visit! We recommend Red Pump Kitchen, Fleurie, C&O restaurant and Ten as great restaurants with a wide variety of food!
There are so many ways to enjoy a town and these are only a few of our "bests". If you have any questions, always feel free to leave a comment or direct message us. Follow us on Instagram or Facebook for our weekly adventures and available vacation rentals in Charlottesville, VA!