Iconic Charlottesville Walks-For Everyone!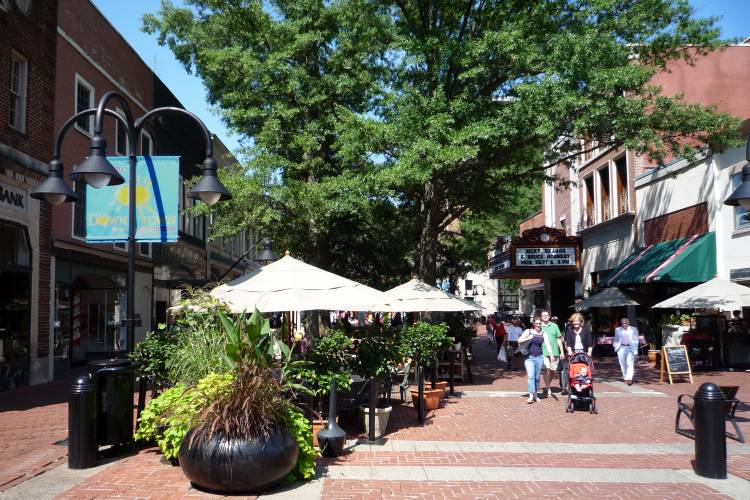 Whether you are a runner or a casual walker, Charlottesville is a great place to explore the outdoors through nature or in the city. We feel like it is best in all seasons, but the spring and fall really do showcase the town so well!
 As a vacation rental company, we love to highlight our favorites in the town to our clients and provide them with great activities throughout it. After living here for over 15 years in various seasons of life (college, graduate school and now as professionals), we feel like we've seen so many wonderful facets of the city and countryside.
Here are a few of our favorites places to walk in Charlottesville:
This is a great walk for all levels! We love starting at the Rotunda and strolling down the picturesque Lawn designed by Jefferson catching a glimpse of the beautiful gardens behind each of the pavilions. We then head to the right of Cabell Hall at the end of the Lawn and continue on through Grounds ending at Scott Stadium to potentially catch a football game! Catch our blog on best tailgate tips!
Known to be one of the most beautiful runs in all of Albemarle County, this is a perfect way to spend a morning! You may see an undergraduate running group all the way up to your grandparents age! It's a great place to enjoy a run or a walk. If you're into mountain biking, you may like this road too!
The Charlottesville Downtown Mall is about as iconic as you can get here! It is a beautifully planned mile long pedestrian mall with shops, restaurants, music and more! It is a lovely way to spend a morning for breakfast (stop by The Nook) or for lunch (stop by Citizen Burger) or for dinner (stop by Hamilton's) or for dessert (stop by Splendora's gelato). With the feelings of an Italian piazza, this is an amazing place for a walk!
The Monticello Trail was created by the Thomas Jefferson Foundation  as a scenic entrance along Route 53 to Monticello. Visitors park in the parking lot at the base of the mountain and wind their way through a forest filled with local trees and shrubs, ending at the top of the mountain near Carter's Mountain Orchard and Monticello. A lovely way to get some exercise in before visiting the historic home. This is a walk for not the faint at heart. Dogs love this trail!
Enjoy your amazing time in Charlottesville and feel free to reach out to us if you have any questions! Guesthouses wants to make your vacation perfect!