Our Favorite Charlottesville Vineyards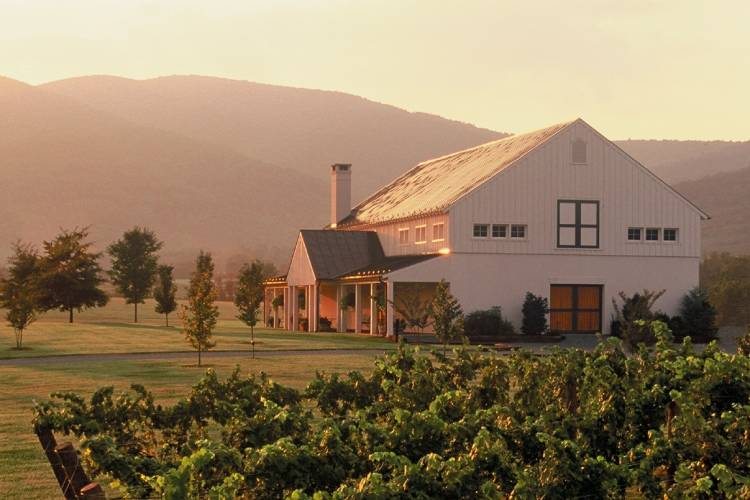 With well over 30 vineyards and wineries easily accessible from Charlottesville, it is the perfect town to visit for wine lovers. But with so many options, how is the weekend visitor supposed to choose which one to go to? Well here at Guesthouses, we wanted to put together a quick list of some of our favorite vineyards to help guide the out of towners. Read to the end for a bonus wine shop!
Just 15 minutes from the hustle and bustle of downtown Charlottesville, King Family Vineyard will transport you to another world. With a gorgeous view of the Blue Ridge Mountains, King Family has a tasting room and plenty of outdoor space to sip wine and enjoy the sun. On most Sundays during the summer, the vineyard holds polo matches with free admission. Try their Meritage wines, which are a delicious blend of Merlot, Petit Verdot, Cabernet Franc, and Malbec.
Closest Guesthouse Properties: Brookview
2. Prince Michel Wine Shop at Carter Mountain Orchard 
Prince Michel has been a dominant presence in the Virginia wine scene for decades and has a tasting room right on Route 29. But instead of heading all the way out on the highway, just head to Carter Mountain Orchard where they have partnered to create the Prince Michel Wine Shop at Carter Mountain Orchard. After picking apples on the orchard, you can head into the wine shop and enjoy Prince Michel and Carter Mountain wines. For the adventurous out there, order a wine slushie!
Closest Guesthouse Properties: Jefferson Park Circle & The Hathaway
3. Pippin Hill Farm & Vineyards
Pippin Hill Farm & Vineyards boast some of the best views in the Charlottesville area and is only 15 minutes from downtown. An exquisite farm-to-table food menu complements their delightful wines. But their popularity creates so much demand that their tasting room often fills to capacity on Saturdays, forcing them to turn away guests at the door. We highly recommend skipping the Saturday crowds and heading to Pippin Hill on weekdays or Sundays.
Closest Guesthouse Property: The Hathaway
Keswick Vineyard's wines have routinely received top marks and awards in numerous competitions on the local, national, and international level. Their great wines, paired with the large indoor and outdoor tasting areas, make Keswick a perfect vineyard to visit any month of the year. Take a look at their events calendar for live music on Saturdays during the summer months.
Closest Guesthouse Properties: Red Fox Suite, Grove Hill

Bonus: Wine Loves Chocolate
Do you want to enjoy Virginia wines without leaving the city? Head to Wine Loves Chocolate on the Downtown Mall! They have a great selection of local and quirky wines as well as incredible, high-end chocolates for purchase. Bite into their Sea Salt Caramel Chocolate as you sip on a central Virginia Viognier.
Closest Guesthouse Properties: Buttercup, Cope Foster, & Many More!